Clark Air Base photos (Page 1)
This page has heavy graphics content and will take a few minutes to load...
I was a dependent at Clark AB from 1979-82 (6-8th grade), and it was a great experience during my most impressionable years. Sometimes when things were slow and there was nothing to do, I dug out the camera and wandered around, taking pictures. In effect, it captured slices of everyday life at Clark in the eyes of a young teenager.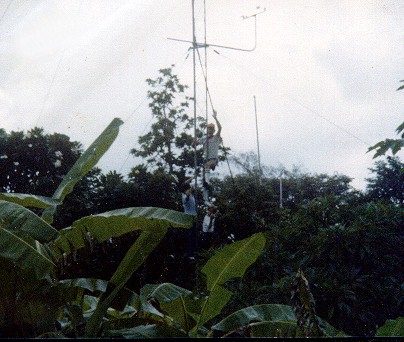 A couple of my friends decided to pose for a picture by defiantly standing on our neighbor's ham radio antenna. These same guys once climbed to the top of the 100-foot floodlight poles at the Bamboo Bowl in broad daylight. I can vouch for this! The cops soon showed up, but by that time they were safely down. (Oct 80)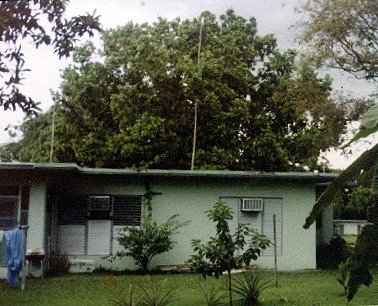 This is the back of my house on 40th Place. I put a 20-foot bamboo pole on the roof so I could get the radio station DWRT-FM in Manila (they played better stuff than AFRTS). (Oct 81)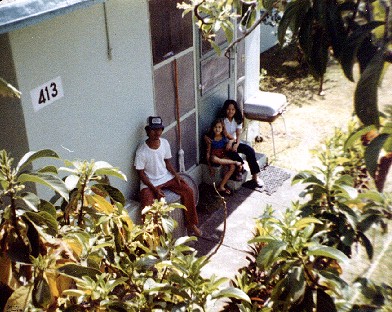 A break during the heat of the day. Our hard-working yardboy Mel, our dependable maid Lilia, and a girl from next door, Melissa. (Mar 81)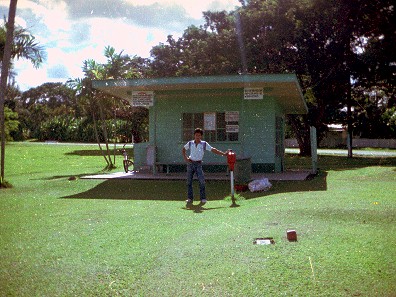 A spot my friends and I often frequented was the snack bar at the northwest corner of the golf course. On a hot day, we often stopped by, where cold drinks and snacks were waiting. The shop attendant would join us, cigarettes would be shared, and we would have long, deep discussions about everything under the sun. (Dec 81)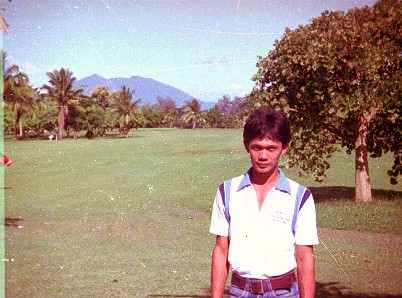 One of the new snack bar attendants (I think his name was David). He was looking forward to heading to Saudi Arabia, where it was said that lucrative job opportunities awaited. By the way, isn't that an awesome view down the fairway? (Dec 81)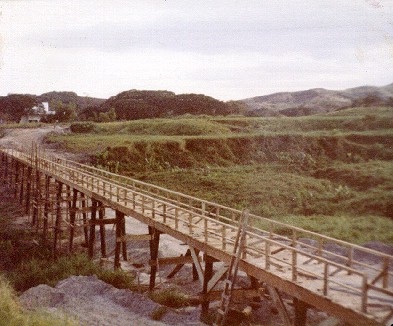 In early 1981 a walkway was built from Wagner High School to the eastern hill housing area. This is it under construction, looking south at the back of Wagner High. Needless to say, I enjoyed clamboring over the tall scaffolding when nobody was around. A couple of my friends painted their initials in tar on several of this bridge's planks. The workers, after discovering the boards, turned them face down and used them anyway. I wonder if the graffiti is still there. (Jan 81)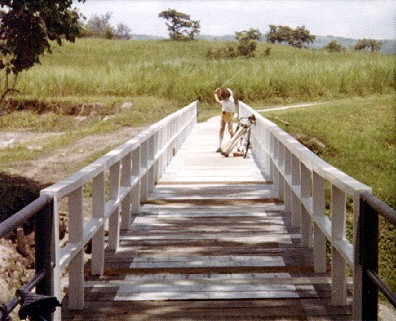 Looking north at the recently finished walkway bridge from the back of Wagner High School. With all the dubious rumors about intruders, thieves, and nocturnal snakes lurking in the FM Wash, it was considered a true testament of bravery to voluntarily use this walkway at night. (Jun 81)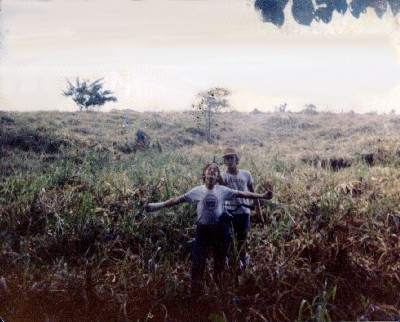 One day I dared a couple of my friends to cut THROUGH the FM Wash from the hill housing area to the golf course tee-off. They accepted the challenge, ignoring the legends about cobras and vipers lurking in the thick jungle growth. It took them about an hour. Here they are, finally emerging. (Oct 80)
Go to PAGE 2 >
Return to main page